---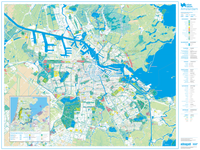 Flat Amsterdam map
Urban Nature maps
Regular price $78.00
VAT included. FREE
Shipping
to the UK, or calculated at checkout.
This version of the Urban Nature Amsterdam map is unfolded without the creases or the cardboard cover. You can lay it flat on a table or pin it to the wall. 
The map of Amsterdam is a large-format (950 x 1270mm), folded paper map. Printed by the best cartographic press in Europe — the same as Ordnance Survey maps — and custom drawn to highlight all the places to explore. Printed with special Pantone spot inks on top of process colours. If you live in the Netherlands, please head to urbannature.amsterdam where you can order your copy.
A little bit about this map
Urban Good collaborated with Nature Desks – an Amsterdam based initiative focused on connecting nature, work and wellbeing– to make the Dutch capital a map that every citizen and visitor will want. The map is a beautiful tool to help adults and children explore nature in the city, showing all the open spaces, water and activities for exploring including parks, green roofs, canals, places to work, relax and sport outdoors, city farms for children and much more.
This big and beautiful cartographic paper map pays tribute to the city we love while starting a dialogue about the importance of nature in the urban environment. Visualising the green - and the blue - you can use the map to explore the many ways in which the urban green can be used: an outdoor classroom, a working space or an allotment. A map can be used in every school in Amsterdam to make kids more interested in the urban green, can inspire companies and every person working and living here to lead a healthier lifestyle, can enable any visitor or expat to literally draw his or her own journey into the urban green. 
The reverse side of the map features information about Amsterdam's urban outdoors, such as facts about local wildlife, an atlas of urban trees, and the benefits of spending time in the urban outdoors. The map also highlights unique ways to explore Amsterdam's blue and green spaces, including iconic walks such as the Amsterdam Urban Walk or the Elm Walk, where to pick your own food in urban orchards and allotments, and iconic Amsterdam wildlife to spot and identify.
Posted via Parcel Force in a cardboard roll tube - which won't fit through your letterbox!